From: http://www.prairiefirenewspaper.com/2011/09/braided-channels-symposium-features-australian-artist-rancher

Imagine this place:
—A river network flows in intricate braids through the rolling terrain of a semiarid grassland.
—An amazing diversity of interesting and unique animals and plants resides here.
—Pioneering families from Europe who settled this region have become part of the national mythology.
—Yet the European-style agricultural practices these settlers introduced have greatly diminished the abundance and diversity of the place's natural ecosystem.
—Simultaneously, for the past few decades, human populations have declined, and this place suffers a crisis in maintaining the viability of many small towns and rural communities
—In response, community efforts are now being made to transform those agricultural practices so that they could be both socially and ecologically sustainable.
—Meanwhile, extreme variations in river flows, exacerbated by climate change, complicate agriculture, and political battles rage over the control of this water.
—At the same time, efforts are being made to protect and properly utilize a vast underground aquifer.
—Finally, though rarely on the minds of most of the citizens of its larger nation, this place nevertheless sparks the imagination of many different artists, writers and photographers.
Where is this place? Well, you might guess that this description fits the Platte River watershed and the Great Plains bioregions of Nebraska. But you'd be only half right. For this description also applies to the Channel Country of Australia's Outback.
Though literally a world apart, these regions have much in common. Australia's Channel Country faces many of the same environmental and sustainable development concerns as do the rural portions of the Great Plains. These include how to preserve biodiversity while maintaining ranching and other agricultural activities in a semiarid grassland, as well as how to diversify economic activities in rural areas in order to maintain viable communities.
And both the Channel Country and the Great Plains are traversed by braided river networks that provide an imaginative model for how different human communities, distinct disciplines and diverse ways of knowing can combine to further these conservation efforts and to nurture a common human and natural landscape.
In this spirit, the Plains Humanities Alliance is presenting "Braided Channels," an interdisciplinary and international symposium, to be held in Ocober in Lincoln, Neb. The event is free and open to the public.
What is distinctive and exciting about this symposium is that it will consider the environmental and cultural problems of these two places from a variety of disciplinary perspectives. It will examine how the arts and humanities, in particular painting, literature and environmental history, can intertwine with the ecological sciences, such as grassland studies and conservation biology, to nurture rural development that is sustainable in both the human and the ecological sense.
The symposium features two Australian speakers, Mandy Martin and Guy Fitzhardinge.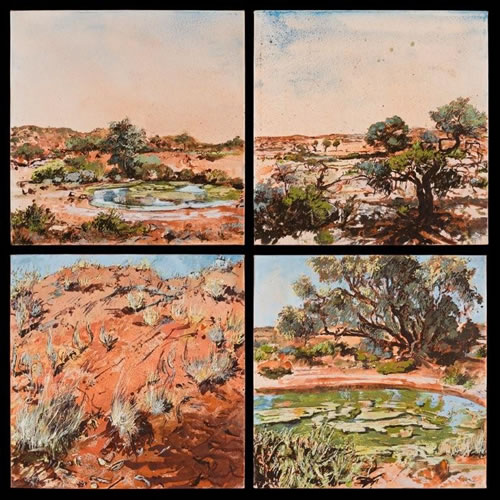 Martin is one of Australia's leading contemporary artists. She has spearheaded innovative projects combining art with ecological awareness to promote environmental protection and sustainable rural economic development in Queensland and New South Wales. She has a strong commitment to regional arts and has mentored many artists and run environmental art workshops in diverse locations the past five years, including Fitzroy Crossing, Arnhem Land, South West Queensland, the Simpson Desert and closer to home in the Central West of New South Wales. Many of the projects have been reconciliation land-art projects. In July 2011 she began a new multidisciplinary environmental art project with artists, scientists and indigenous traditional owners at Paruku, in the Tanami Desert.
Fitzhardinge is a pastoralist (rancher) who manages several properties in New South Wales and Queensland. He has been involved in various projects to develop sustainable ranching techniques and to improve the ecology of the semiarid regions while simultaneously nurturing sustainable rural communities.
Since its inception, he has participated in the Australian Landcare movement, a program to develop more sustainable land management practices. Guy has also served on the board of Bush Heritage Australia, a conservation organization that grew during Guy's tenure from a staff of nine and about seven small properties to a staff or nearly 70 and 34 properties totaling almost two million hectares. Guy is chairman of a trust set up by the PEW Environmental Trust and The Nature Conservancy to fund land-management work by a number of indigenous communities in remote Arnhem Land in far northern Australia. He is a governor of World Wildlife Fund Australia. In addition to these conservation activities, Guy has also played major roles in the red meat/beef industry in Australia. He is currently the chairman of the Beef Genetics Cooperative Research Centre, an organization set up with 17 partners, which works with the USDA, several U.S. universities and various Canadian institutions to carry out all the genetic research for the beef industry in Australia. His Ph.D. dissertation examines the role of landscape art in the development of environmental values among pastoralists in New South Wales.
In their keynote presentations, Martin and FItzhardinge will discuss their efforts to cultivate environmental awareness in Australia's rangelands through the use of art, environmental history and a series of community book projects that have recently culminated in the publication of "Desert Channels: The Impulse to Conserve."
Their talks will be followed by a panel discussion featuring nine university and community experts braided together from a range of disciplines. These include Dana Fritz and Jeffrey Thompson from the Art Department, Robert Brooke from English, Cheryl Burkhart-Kriesel from Agricultural Economics, Martin Massengale of the Center for Grassland Studies, Donna Woudenberg from the National Drought Mitigation Center, Mark Burbach and Larkin Powell from the School for Natural Resources and Teresa Franta from the Grassland Foundation.
The Braided Channels symposium will be held Oct. 5 from 2–5 p.m. at the Center for Great Plains Studies, Hewit Place, 1155 Q Street in Lincoln, Neb. The symposium is sponsored by the University of Nebraska's Institute for Agriculture and Natural Resources, the University Research Council, the Plains Humanities Alliance, the Center for Great Plains Studies and the Department of English. For more information, contact Tom Lynch at tplynch2[at]gmail[dot]com.
Copyright 2007-2011 Prairie Fire Enterprises, LLC