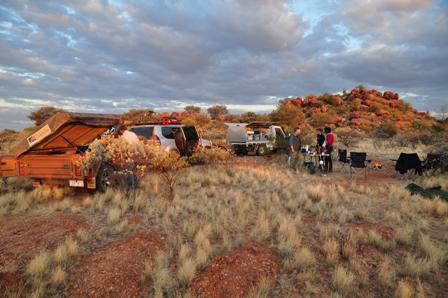 Blog 4 The Paruku Project. Second Trip 4- 22 August 2011 This was the big working trip designed to bring together all the participants including artists, scientists, writers and donors to work with the Traditional Owners to explore the interface between indigenous and non- indigenous ways of representing, interpreting and looking after country. The Paruku artists and rangers were all ready for this intensive period, having met with us and discussed the project in May.
We were a large group, travelling from all over the world and Australia to the remote community of Mulan.
Kim Mahood had already been at Mulan for 3 weeks reactivating the IPA office and preparing and explaining to everyone in the community what was going to be happening with the project. The Paruku Rangers had prepared the Handover camp site to be our base for 2 weeks.
Handover Camp. Photo David Leece
Rob Cossart from the WA Dept of Water and Rebecca Dobbs, Researcher from the Centre of Excellence in Natural Resource Management, The University of Western Australia Kimberley Region, Kununurra had arrived a few days before our group to start water monitoring and fish sampling and the cybertracking/ mapping work with the Rangers and Kim.
Rob Cossart's rig. Photo Mandy Martin
Jenifer Rahmoy, Australian Federal Government Department of Sustainability, Environment, Water, People and Communities, came from Canberra via Kununurra, to observe and talk with everyone.
Two other scientists in the team, Steve Morton and Guy Fitzhardinge travelled ahead of my larger group, by road from Alice Springs to join Rob, Rebecca, Kim and the Paruku Rangers to observe the monitoring and discuss the scientific contribution to the CSIRO Publication about Paruku.
Bill Fox was delayed 24 hours flying from the USA and due to family reasons Faye Alexander had to withdraw from this trip but we gathered the rest of the group together at the Silver Bullet, which is where Steve and Faye Alexander live.
When Bill finally did arrive, we barely gave him a cup of coffee, in fact not even a shower, before hitting the road to the Tanami track. We camped the night near Mt Doreen enjoying our first night under the shooting stars.